How to use an electric toothbrush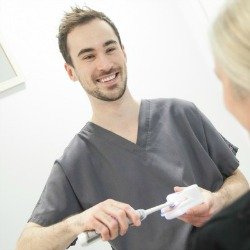 Have you ever learnt how to use an electric toothbrush?  Or how to brush your teeth properly with any kind of toothbrush?  
Electric toothbrushes can be better than manual ones, but only if they are used correctly.
If your brushing technique is poor, there's no toothbrush in the world that will completely clean your teeth for you.  
I'm going to show you exactly what to do, starting with a few basic pros and cons of electric toothbrushes.

Pros
Easy to use.
More efficient at removing plaque than a manual brush.
Helps reduce staining.
Cons
Can be expensive.
To charge, it needs a shaver socket or an adapter and an ordinary electrical socket.
What to use to brush your teeth properly

You will need fluoridated toothpaste, and the brush itself.  I usually recommend Oral b 2000. It moves just as fast as the top of the range brush, it just doesn't have as many features.  But you only need the one anyway!
How to use an electric toothbrush

The path that the brush should follow around your mouth is exactly the same as for a manual toothbrush (see guide here).  
Hold the brush at a 45 degree angle with a little pressure, and hold on each tooth for 3 to 5 seconds. 
Start from the outside of the back of your upper teeth on the right, and brush all the way around the outside of your upper teeth until you reach back left.  Then guide the brush under your very back teeth to brush the inside from back left to back right. 
Move the brush down to the lower teeth and repeat the process by starting at the back inside right, to back inside left and then outside left all the way around to outside right.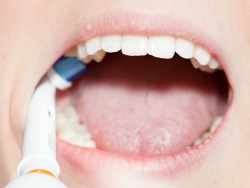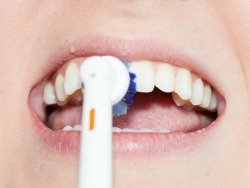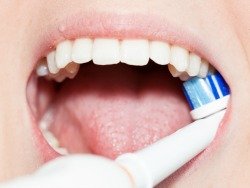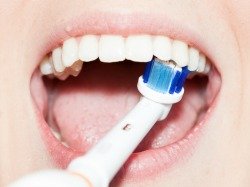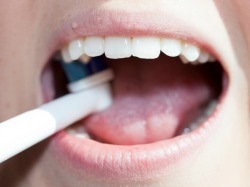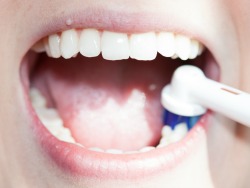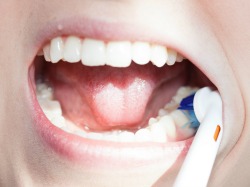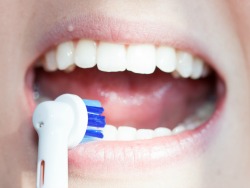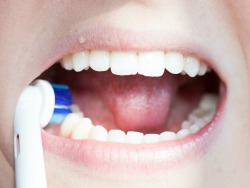 Then finally you can scrub the biting surfaces, applying a little more pressure.
You don't need to rinse, just spit out the toothpaste.  And you can finish by brushing your tongue by starting near the back and brushing towards the tip.
Electric toothbrushes have a two minute timer, which should be enough to brush all your teeth, but if you need longer to make sure you've brushed each individual tooth well, that's fine.  And they also have a red indicator light which shows if you're applying too much pressure, so do pay attention to that.
Toothbrushing tip and tricks
The most common mistake people make when brushing their teeth is to move around a lot. They do a little bit on the bottom, then brush the top right biting surfaces, then back to the bottom, then front teeth. This is an ineffective use of time and not very efficient. Brushing should be methodical so you know each tooth is getting exactly the same amount of time spent on it.
Do floss before brushing – fluoride cannot penetrate through sticky plaque, so if you've not removed it from in ­between the teeth, then they're not as protected as you might think.
Don't rinse after brushing – all the ingredients in toothpaste are there to help care for your mouth. When you rinse it out you're getting rid of them.
Don't scrub your teeth - watch your pressure.
Do use a medium textured toothbrush.
Do use fluoridated toothpaste.
Change your toothbrush or electric toothbrush head every three months.
Avoid battery powered brushes – these tend to die after about three weeks and don't deliver the power needed to move such a small head.
Do make sure you brush for the whole 2 minutes.
I can show you how to brush your teeth

If you have any questions about how to brush your own teeth, or perhaps want guidance about how to instruct or supervise your child's brushing, I'm always happy to show you the correct techniques as part of your routine hygiene appointment.  Just book in and I'll see you soon.