Teeth tips for chaps - by our reception team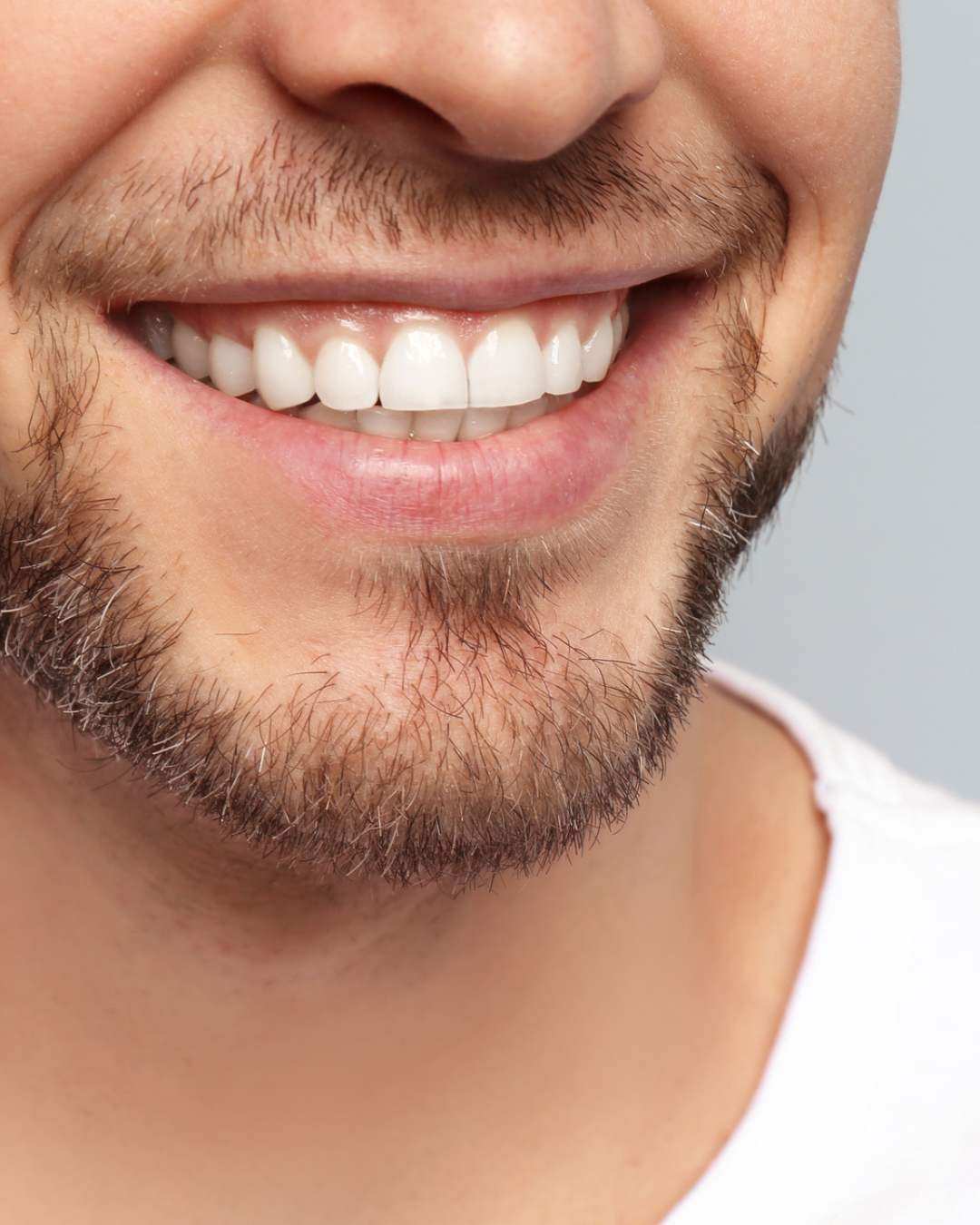 I say, chaps, it's time to get your teeth in tip top condition.
Teeth tips for chaps is here to point your pearly-whites the way of shining success.
If you're at all interested in taking good care of yourself (and you've landed on this page so I'm guessing that's a "Yes"), then chances are you go to the gym, have a facial skincare regime and take care of your diet.  And what about one of these?
Beard love
The beardy look is so in right now, and you know what?  There's absolutely no explanation for this.  One day, it just arrived and it's not going anywhere. It's here, so let's embrace it.  Fresh hair cut, big beard and the odd tattoo.  We are huge fans.
And what's even bigger is the male grooming market.  Facial cleansing, toning, exfoliating and moisturising are just the start of it.  Beard and moustache products are now searched for more online than women's hair care products.  It's true.

So let's talk about that beard.
Did you know according to a recent survey by Match.com, 71% women say that they judge a man based on his teeth?
So even with a beard, your teeth are going to have to impress.  And let me just be sure… Did you grow that beard to hide bad teeth?  Eewww. Not so much smooth hipster.  More salty old seadog.  

This is such a bad idea.  

Firstly, the only way you can hide your teeth behind a beard is if your facial hair is really scruffy.  And as Ross has demonstrated, the unkempt, "I've-been-trapped-in-a-woodshed" look just isn't good.  And most importantly, you can't 'hide' bad teeth, hoping they'll get better.  Neglect will only make bad teeth worse.  

So what can you do to get that smile looking on point?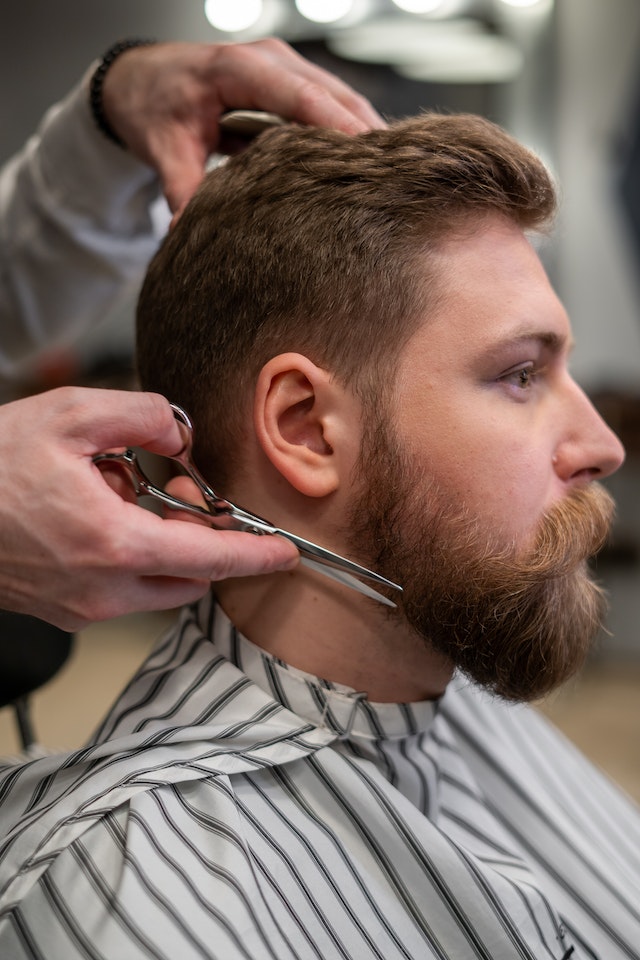 Straightening
In your teenage years it was common for half your school mates to be sporting a metal smile, along with acne and a cracking voice.
But fast forward a few years, and turning up to that important work meeting or that special date looking like a bond villain gets a little tricky. 
Thank goodness for new dental innovations such as Invisalign.  
They are basically braces that you can't see and will invisibly get you a straight new smile without impacting on your life.  
Find out more on our orthodontics page 
Veneers
If you want to change the appearance of your teeth but would like a quicker result than braces, have you thought about veneers? 
Panic not, you don't have to end up like Ryland or Joey Essex.  The look is designed specifically to you.
For example, one of our patients runs a tattoo company.
He's wanted straight teeth since he was a teen, and recently, finally decided on some cosmetic dentistry.  Similar to the effect that veneers have, he opted for composite bonding.
Here's what he told me about his decision:
"The tattoo industry is great to be involved with. The UK is the most tattooed nation in the world and after being open only 10 months I can see why – it's booming right now, so it's awesome to be a part of that and contribute my bit to the look of 'now'.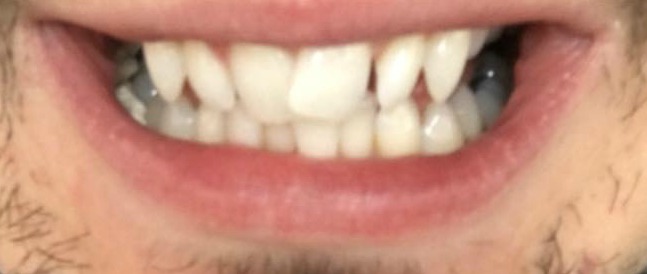 My teeth were crossed over at the front and very jagged.  I felt like everybody noticed them – I know I always notice people's teeth straightaway.  For a long time I didn't have the courage to get them fixed.  Even when they were holding me back – there have been times when I didn't have the confidence to go for certain jobs that would be customer facing because I just wasn't comfortable smiling.

A lot of my friends – male and female - use whitening and have had cosmetic dentistry.  That healthy, straight, white smile is so attractive.  So I eventually had enough of not smiling.  I choose a great dentist who I felt really confident about and I just went for it.

And now everybody notices my teeth for the right reasons and my confidence is sky high.  

I can finally smile!"
Whitening
No matter how straight your teeth, there's nothing more off-putting than a yellow smile. And here's another fact you may not be aware of: Results have shown applicants are 58% more likely to get a job offer and 53% more likely to be offered a pay increase if their teeth are whiter.

Here at Clinic 95 we offer advanced teeth whitening  Find out more on our whitening page.
And there's something else you can try as well:
Black is White is king
This is a brilliant product for you guys.  It's the slickest, butch-est toothpaste in the whole world and it works like a charm to get your teeth really clean and white.
Just take it from me that you need to switch your electric toothbrush on once it's in your mouth and not before (unless you want your bathroom covered in dots of black goo).
Yes, the stuff really is black when it come out of the tube.  Get it on your teeth and it turns a sludge-grey colour.  At some level, it really does seem wrong to brush your teeth with something that is so dark.  But once you've got over that initial 'yuk' moment, embrace the grey goo and go for it.  Just brush as normal.
Who better to demonstrate the no-holds-barred manliness of the Black is White experience than our very own hygienist Ben?
Never one to shy away from a challenge, I set him the simple task of cleaning his teeth without making a mess.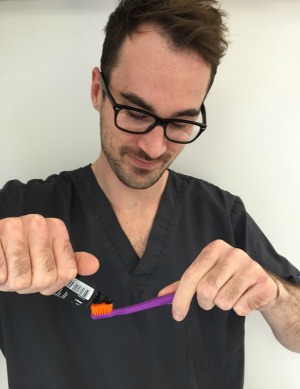 Scary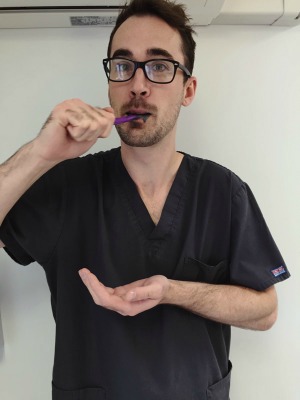 Totally not sold on this yet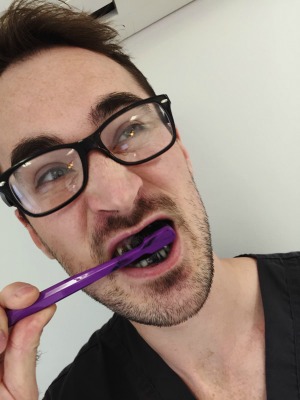 It's getting weird
Yes, it is a bit odd.  But it really is all worth it.  The paste does a fantastic job of removing surface stains and you'll probably notice a difference in the colour of your teeth right from the very first use.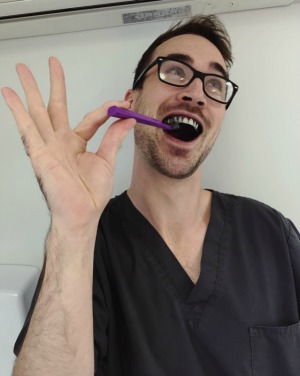 Nailed it
The only slight drawback is that, as tubes of toothpaste go, it is expensive.  
But compared with some of the over-the-counter whitening treatments (that don't work, and for an explanation of why, see Ben's whitening tips page here) this is a cheaper and safer way to keep those stains away on a daily basis.
Once you get over your initial misgivings about putting something on your teeth that looks like motor oil, you'll be amazed at just how good it is.

It tastes like fairly normal toothpaste, one tube will last you for quite a while and it does a fantastic job.
We all love it.  Hands down, it's the best daily whitening toothpaste any of use have ever used.
We always carry stock of it now so make sure you pick up a tube next time you're in the clinic for an appointment.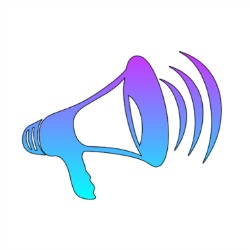 Chaps have their say
"Well, I do like my teeth, but I probably need to have some whitening done.  I've been smoking for a long time and eating rubbish for so many years now that there's some discolouration. I wouldn't go as far as glow in the dark or unnaturally white cos that's just weird! "  Ian, 27, Bicester
"I actually like my teeth.  I'm lucky as they're all really straight.  But they're a bit gappy so I would like them to be closer together.  And there is a bit of pressure to have the 'perfect' look at the moment.  I think I might try a whitening treatment first and see how I get on with that before going for anything more. "  Alex, 24,  Oxfordshire
"I use whitening products as I drink a lot of green tea. I'm not really into the whole veneer look.  If I had the choice between Invisalign braces or veneers I would choose braces every time as then it would be your own teeth."  Ben, 28, Summertown
Next time on 'Teeth tips for chaps...'
OK, so those are all the positive things you can do for your smile.

But what about the other side of the story?
In part two, we will tell you about the absolute worst things you can do to your teeth.  
You're probably doing one of them right now…