Top tips for lips - from our reception team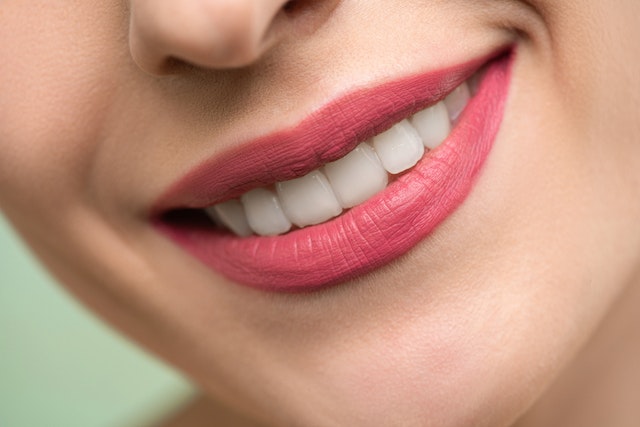 Well, it's any excuse for a party around here, as you know, and this one was all about lips, lipstick and lip care. 

Hang on, this is usually teeth tips, isn't it?

Sure!  And if you love your smile, you'll want to make the most of it, which includes looking after your lips.

(And if you're not so keen on your smile - perhaps you're thinking about cosmetic dental work - then applying the right lip products can help you feel more confident.)
So we've got some interesting facts about lipstick and lip care to share with you.  
Party, party, party

Everyone was armed with their favourite (and least favourite) lipsticks and lipstick stories, and answered loads of questions about why they love the lipsticks they do, hate the one they hate, how they apply their daily lip colour and take care of their lips in general.

And you know what?  Half the time, I couldn't get any of them to agree with each other.  The other half, there was very clear agreement.  So who were the winners and losers?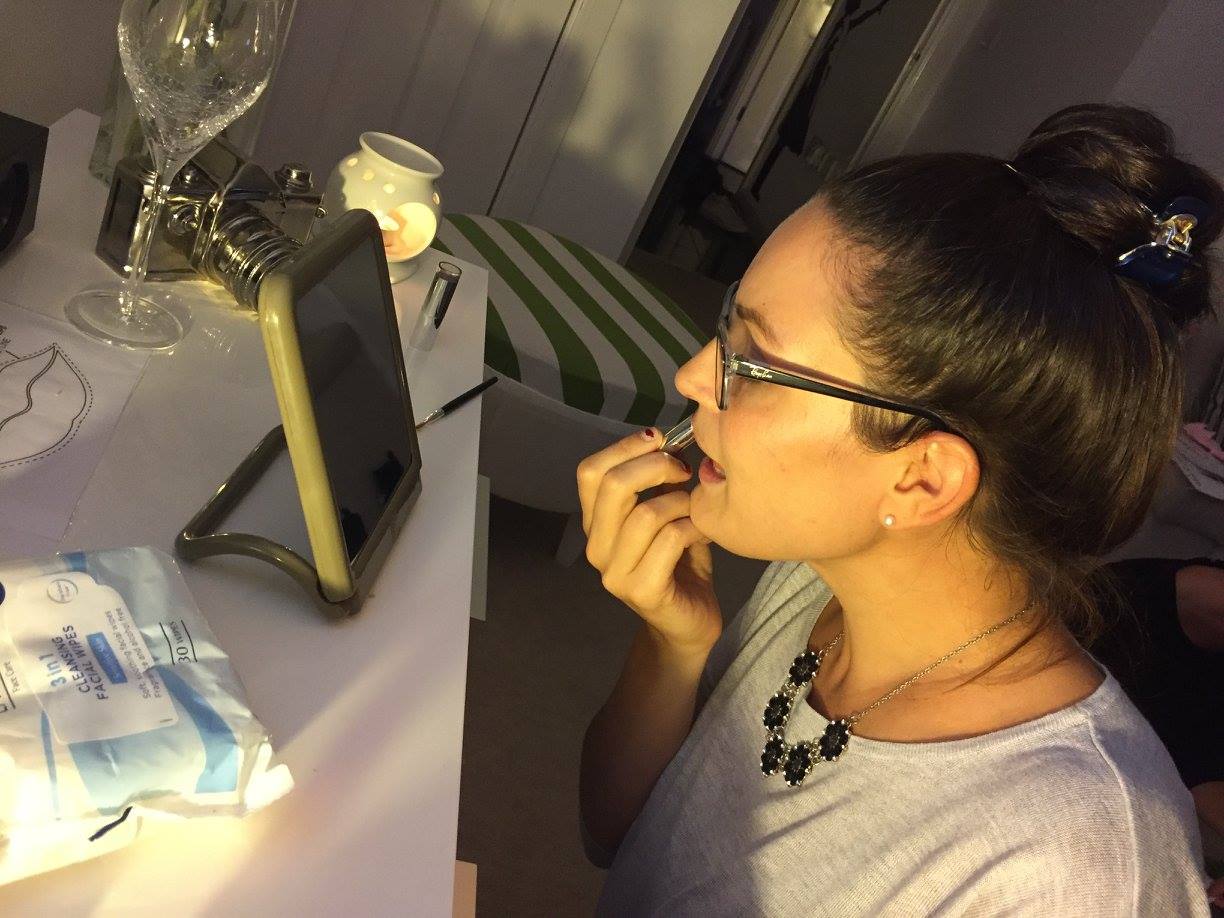 A really clear winner was Nivea which was hands-down the favorite lip balm with half of all the guests using it regularly.

SPF was mentioned a couple of times – it does seem like we're keener than ever to protect our lips from the sun the same way that we protect our faces.

And I did get a little consensus on 'best lip tip' which most people said was simply to moisturise regularly.
 
As far as lipstick and lip colour go though, things were all over the place.  Some people's absolute favourite was loathed by others – step forward Avon, Lancome and Rimmel who all really divided opinion.

And it's funny, because people were more likely to name an entire brand that they didn't like rather than individual types or shades of lipstick.
So it seems that people will shop their favourite brand for a colour they like and will stay loyal to that brand rather than experiment with colours from other companies.

Bargains
Finding a great lippy doesn't have to break the bank. 
MUA got a mention (stocked in Superdrug) as being worth a look.  It's incredibly cheap and seems to be good quality. 
Miss Sporty has lipsticks that start from only £2.99  and some of the colours perform pretty well. 
So it's worth trying the cheaper brands (although someone else said that absolutely the worst lipstick she'd ever tried was a cheap brand that she now avoids like the plague – that's you Collection 2000).
And also popular was the fact that you often get free lipsticks in promotions when buying other products like foundation or skincare from a particular brand, such as the offers that Estee Lauder seem to be doing all the time.
Everyone agreed this was a really effective way of trying a different colour that you might not otherwise.  And who doesn't love a freebie?
Buying online

Some of the ladies have bought makeup online, but mainly eye shadows and foundation rather than lipstick.  Far more than any other type of cosmetic, everyone does seem to like to see lipstick colour in person before buying. 
Of course, it does depend on who you buy from online.  Frankly most of them were pretty grossed out by the idea of buying lippy from eBay "eeeww, hygiene" also "There's no way - not unless it was totally sealed and I was 100% sure it wasn't a fake".  So not much enthusiasm there. 

But this just about sums things up "I need to try a lipstick first and then often I get it home and still hate it afterwards.  So what chance have I got if I buy it online ?" 

Lipstick fail

Well, who doesn't have a horror story of finding out too late that they've got lipstick on their teeth?  Nobody.  Apparently we've all done it.  Work meetings, interviews, and of course, romantic evenings. 
This one takes things a step further though
"I managed to get lipstick on my chin when I was on a date.  Still don't know how.  Or how long it was there…"

But this is my favorite lipstick fail:
"My young daughter got hold of my brightest red lipstick while I was asleep.  By the time I woke up, the whole place looked like a massacre"

Then things got messy

Is it a party without games?  'Course not.

And following all the horror stories of people getting lipstick on their teeth during meetings and dates, it was definitely time for a game of fluffy bunny…

The aim is to fit as many marshmallows in your mouth, adding one a time. You have to say  "Fluffy Bunny" before attempting to add the next one.  All whilst avoiding smudging your lipstick.

We all had a different brand of lipstick, and found that the best two for staying power were MAC and Barry M.
The worst culprits for smudging?  Miss Sporty and Avon.
And on that note, time to break out the blindfolds...

As soon as I mentioned this game I could see the horror on their faces.  AND as a delightful little twist, I picked a dark maroon-coloured lipstick.  Surprisingly we all did pretty well - no lipstick on teeth and the colour was (mostly) pretty evenly distributed. 
"I think I've actually applied this better with the blindfold.  Huh…"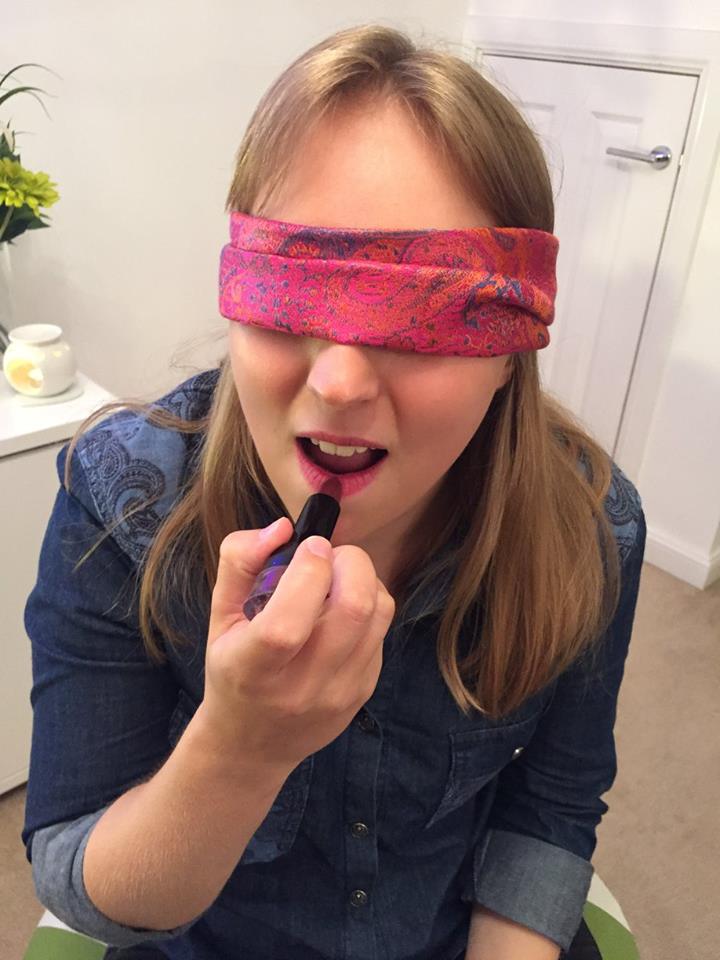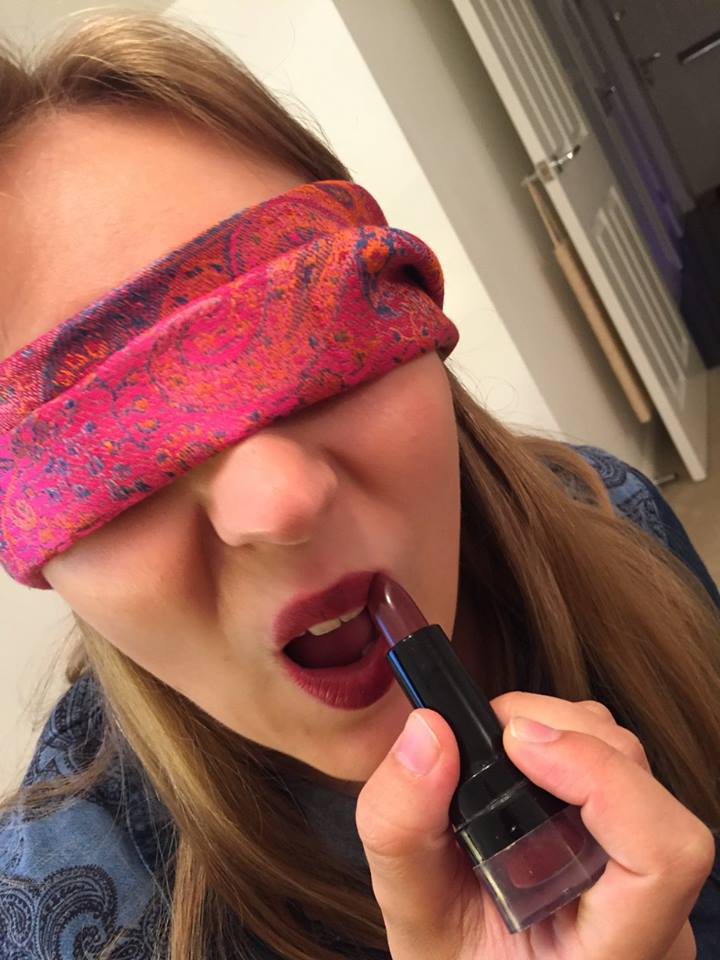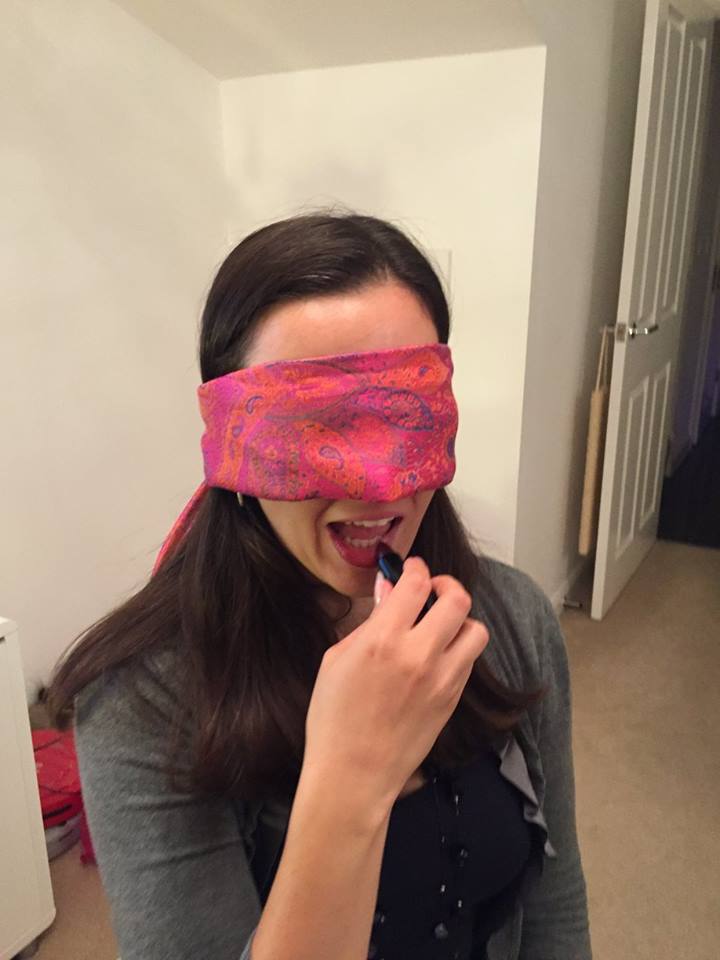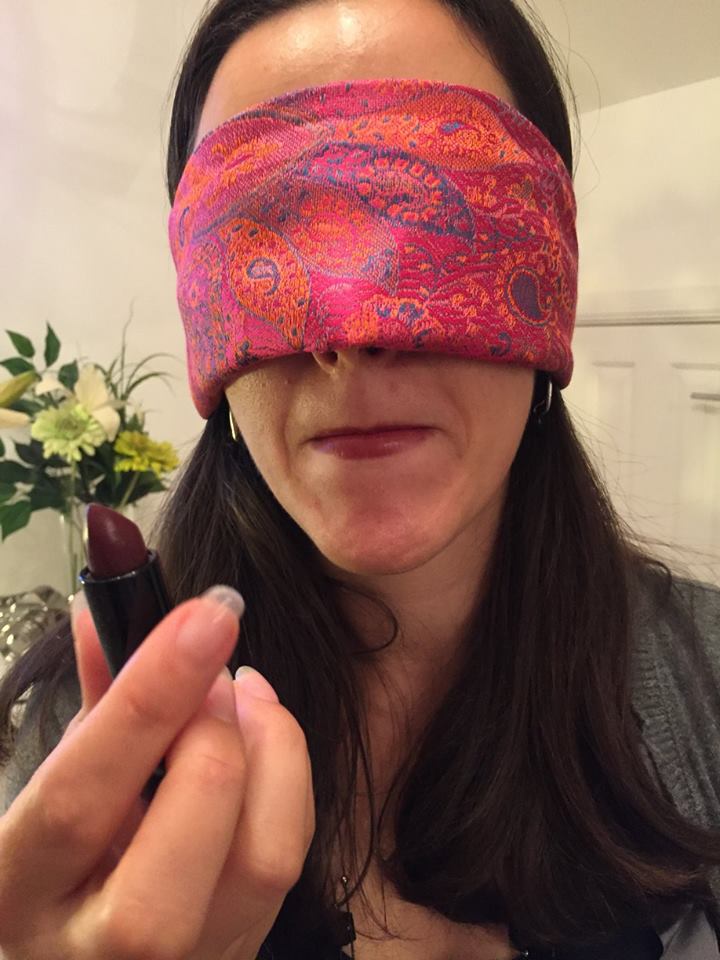 Then we took it to the next level me vs my mum!
Same as before, we were both blindfold but this time we had to apply the lipstick to each other – just asking for trouble.
This was pretty impossible. And I ended up looking like The Joker.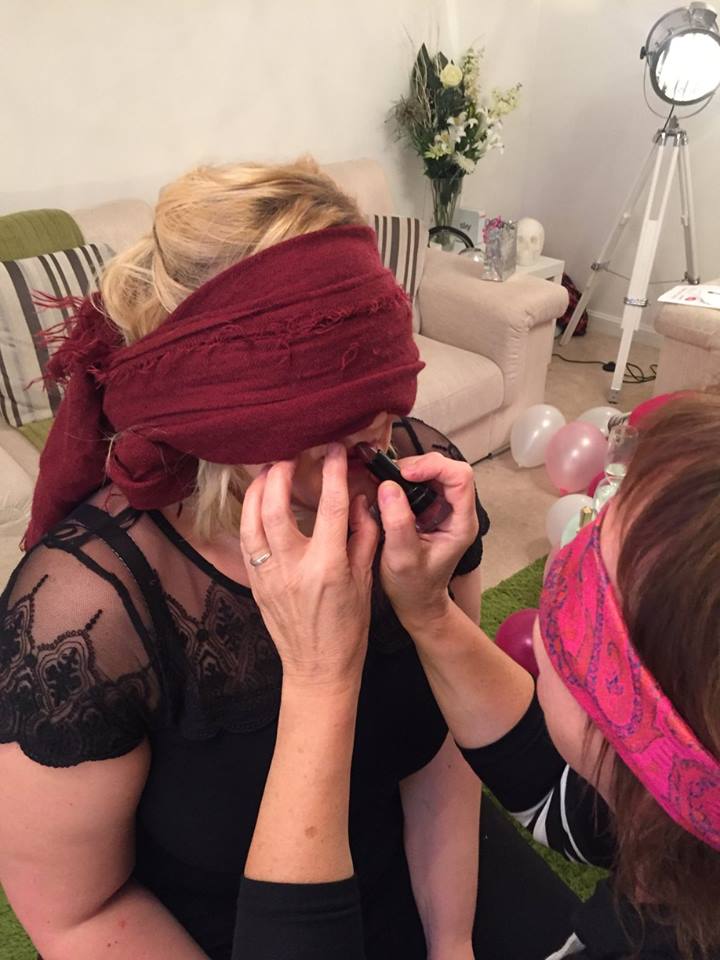 Top tips

A few people mentioned that old stalwart LipCote.  It's pretty old school, (I'd totally forgotten about it), but it seems that it's still going strong and more than a couple of my guests said how useful it is so I might have to check that out for myself.

Remembering to blot was probably the most useful tip, with making sure to moisturise regularly and also using a dab of concealer to highlight the cupid's bow all really useful tips.
One thing that everybody agreed on – all the girls hate the feeling of their lips being dry and don't like it when their lipstick makes their lips feel parched. BUT… interestingly, the vast majority of them don't regularly exfoliate their lips, which could help with dryness. 
So that's going to be my absolute top tip:
Exfoliate your lips either with your usual facial exfoliator (although try not to get the stuff in your mouth – it might smell delicious but I can guarantee it's not going to taste that good), or, if you're not much into scrubs, then try exfoliating your lips with an old soft toothbrush. 
Ahem, I should add that's a CLEAN old toothbrush, not some scrubby thing you find lying at the back of the medicine cabinet.  As if you would… 
Make sure yours is scrupulously clean by pouring boiling water over all the bristles first to sanitise it. And then just really gently rub it in tiny circles over your lips, working slowly from one side to the other on both upper and lower lips (using a tiny dab of lip balm if you like) and then wipe with tissue and slather on the moisturiser and you'll have the softest lips ever. 
Now you've got fabulous lips, you need something fabulous to put on them.

And with that, I come to my absolute favourite discovery of the party.
Lipstick legend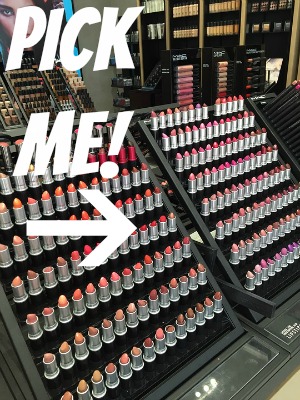 The wonder that is Ruby Woo.

Whilst putting together this blog, through all the research, all my searches and the girls at my party, one lipstick that kept popping up... MAC's Ruby Woo.

According to British Vogue, it's one of the top ten all-time best lipsticks and is a favourite of Taylor Swift, Rihanna and Gwen Stefani to name but a few.  OK, so I'm sold on it already.

But what exactly makes this one particular lipstick so incredibly popular?

Feedback from my party showed the reason why we ladies sometimes shy away from red lipstick is because we don't know what shade to choose (it's that classic thing of there being just too many options).  And also, others felt that very bright colours highlighted imperfections in their smile such as slightly wonky teeth or discoloration – both of which you can of course come into Clinic95 for a chat about.

Enter the wonders of Ruby Woo and the miracles of science….

Although the most sublime red colour, Ruby Woo actually has blue undertones which help make your teeth look brighter and whiter, which has got to be one of the reasons that it's so popular.
Lippy lesson

Let's reminisce back to your school days in art class - remember the colour wheel?
On it, blue sits opposite to orange and yellow, which means these colours tend to cancel each other out when paired together.  So a lipstick with a blue hue to it can help to cancel out a yellow tone on your teeth.  It's a really quick, easy and cheap way to give the impression of whiter teeth, and if you have your teeth whitened then Ruby Woo will really make the whiteness pop!

Everybody agreed the colour was gorgeous.
MAC describes Ruby Woo as a 'blue red... It is the perfect red shade. It is neither overly cool-toned nor too warm toned which makes it wearable by almost every skin tone'.
This was unbelievably true - it suited everybody at the party and going back to my previous comment of how confusing a lot of people find trying to identify the perfect red lipstick, Ruby Woo ticks a lot of boxes!

Other comments from the party ladies included "it was quite hard to put on" - meaning it required a bit of extra pressure while applying it, in comparison to other lipsticks.  And a few of the ladies mentioned it felt drying on the lips.

A way to overcome the texture issue would be to apply it with a lip brush instead, rather than straight from the bullet, I guess.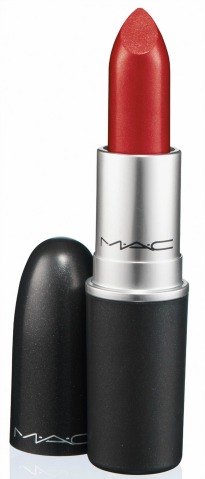 If I'm honest I don't always have time to faff around with a lip liner and lipstick brush - I mostly apply lipstick straight from the bullet.  But on a night out I do line my lips with a red lip liner and I fill in my lips with a lip brush as it does give a cleaner appearance.

A good tip if you do apply straight from the bullet - clean off the edges around your lips with a little concealer to make the line look a bit more crisp and precise.

So yes, it's very matte and quite dry in texture.  But the extra effort you need to put it on is so worth it, because the pay-off is incredible...
WOW does Ruby Woo have staying power! This lipstick stayed on my lips for hours.  Seriously… HOURS.  Previously I've found that red or bright lipsticks tend to 'bleed' a lot but Ruby Woo is a keeper that does not move a bit.  I even managed to keep it on whilst eating and drinking – a tough task for most normal lipsticks.

Ruby Woo retails at around £16.00 with some of my guests feeling that it's a little expensive (when compared to other brands like Barry M which did so well in the Fluffy Bunny staying-power test), but in my opinion it's worth every penny.   I recommend it 100% .  I'm starting to sound like a sales rep, and I swear I'm not!  I'm just genuinely impressed by how much this one little lipstick suits almost everybody and makes your teeth look whiter, too.  Win!

I'm sure that you too will fall in love with Ruby Woo...
So that's it for our round-up of top tips for lips. 
Don't forget, if you'd like to improve your smile, we've got loads of options for you to choose from here at the clinic – from a simple but effective whitening toothpaste to our invisible straightening technique, we've got something that'll make your smile sing. 
Just contact us to find out more.  Oooh, and drop me a line if you'd like to feature in a future blog.