Coronavirus Latest Updates
We hope you and all of your loved ones are staying safe during these difficult, unprecedented times. 
On Saturday 31st October 2020 Prime Minister Boris Johnson announced a second national lockdown due to the rising number of cases of Covid-19.
Clinic 95 will remain open. There are no restrictions with regards to medical treatment and you are actively encouraged to keep your appointments to maintain your dental health. At Clinic 95 we have all the necessary Personal Protective Equipment (PPE), are observing social distancing guidelines and will continue to maintain our high standards in cross infection control.
The latest news from GDPUK: Dental practices should remain open during lockdown
Article - Martha Stewart:  Is it safe to go to the dentist during the Covid-19 Pandemic?
At Clinic 95 it is our priority to ensure the safety and well-being of our patients and our team. In addition to our own strict, high standards of cleanliness and cross infection control, we will continue to follow all recommendations made by the UK Government and the Faculty of General Dental Practitioners. 
Added to our already-existing health and safety procedures, we have introduced the following enhanced safety measures
Before your next appointment please read our policy
Please note that visiting Clinic 95 during the COVID-19 pandemic will be a different experience. We have new procedures in place to ensure our patient and staff safety. Before your visit to us for your appointment, you MUST read the following Reopening policy:
What to expect at your next appointment
• You will be contacted before your appointment to ask you a few screening questions regarding your health. 

• Please do not arrive more than 5 minutes early for an appointment due to social distancing guidelines.

• Patients who are experiencing a cough, high temperature or any other COVID-19 symptoms will be asked not to attend the practice. 

• Any forms will be completed via an on-line portal.

• Appointments will be scheduled to ensure social distancing between our patients, in addition to limiting the number of patients in the practice at any one time.

• Your temperature will be taken when you arrive at the practice, if this is above 37.8C you will be advised to rebook your treatment and to follow government guidelines. 
• You will be asked to put on a face covering, this mask must be worn at all times while inside the Clinic and only removed at the request of the clinician.
• As you enter the building you will need to wash your hands and use hand sanitiser gel to disinfect your hands.
• A one way system in in operation throughout the practice.

• Perspex screens are in place in reception, to protect our team and allow appropriate social distancing during any interaction with the reception team.

• Hand sanitiser will be available throughout the practice and our staff will encourage you to use it. 

• Whenever possible, we ask that children are accompanied by only one parent or guardian per visit.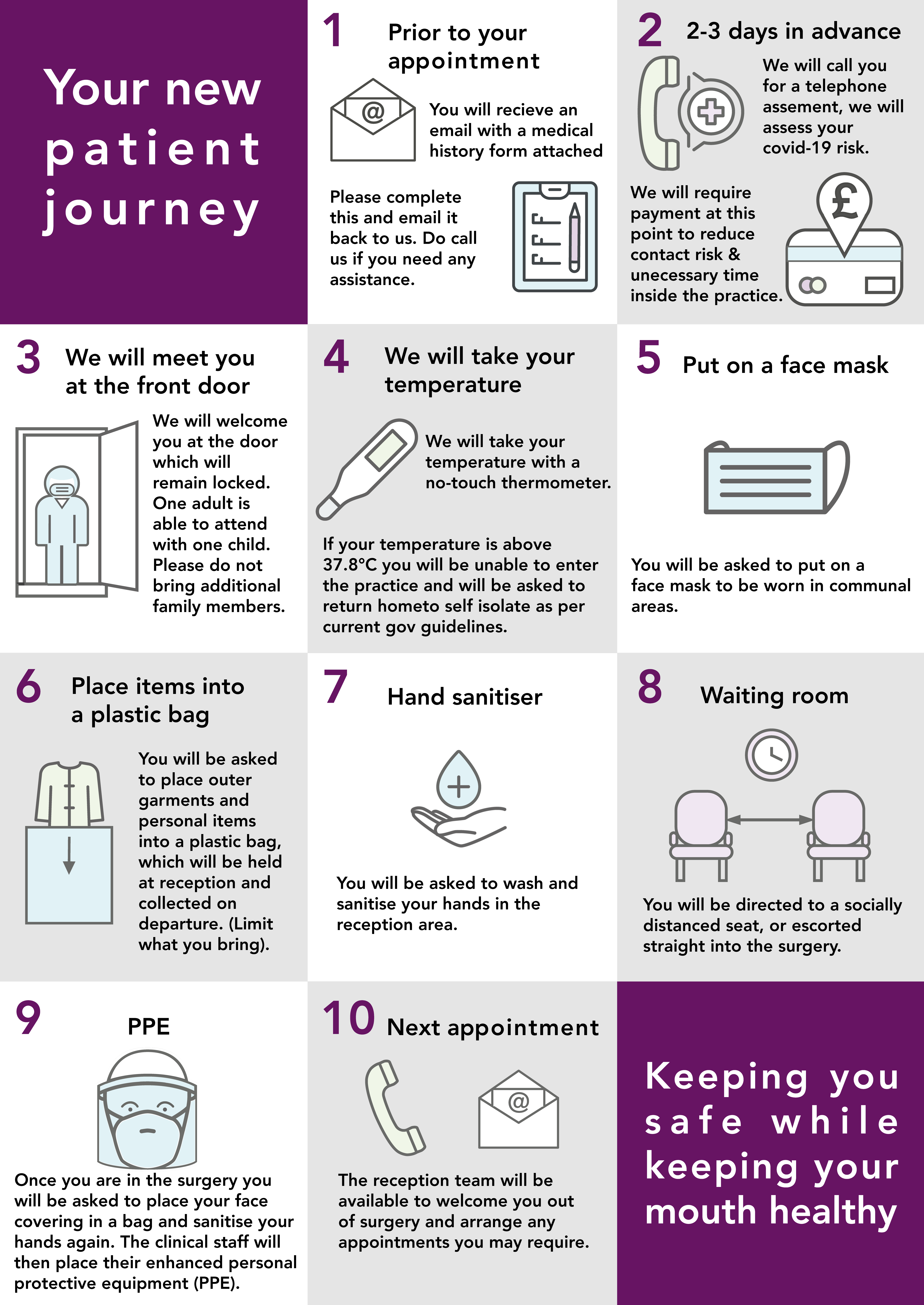 We do hope we can continue to care for your oral health during this time and you feel safe with the measures we have implemented at the practice. 
Should you have any questions or wish to schedule an appointment, please do not hesitate to contact us on 01865 241661 or via email info@clinic95.com